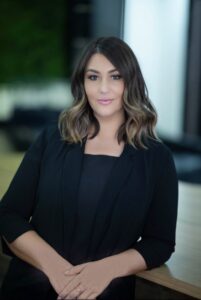 OLIVIA
OWNER
BEAUTY THERAPIST/MAKEUP ARTIST/ SENIOR HAIRDRESSER
Olivia is highly trained in both hairdressing and beauty therapy, with over 12 years' experience. It has always been a dream of hers to have a salon that offered everything to her clients in the one place. So, after working at Insignia for 3 and a half years, the fantastic opportunity came up for her to become a salon owner and pursue her dreams.
Olivia has an extensive portfolio that consists of eyebrow feathering, lash extensions and countless hair styles and colour transformations.
She has attended and continues to attend a multitude of post graduate courses in order to become the best she can be and to provide services and knowledge that is of the highest standards.
She is a mentor that not only the juniors, but all the staff admire, as her passion, determination and aspirations lie within the hair and beauty industry. 
Her favourite treatments in beauty are makeup, eyebrow feathering, skin needling and Omnilux. And when it comes to hairdressing, she is definitely our blonde expert.
Olivia is extremely passionate and very dedicated to making Insignia the best salon, spa and skin clinic in the west.